Come outside and let us hear your company!
We reach the most students
The VEK is one of the most active student associations of Ghent! Surf to our site or to our Facebookpages, if you have doubts about that.
Via countless and big events we can reach a lot of students. As official association of the Faculty of Economics and Business Administration a lot of students with economic courses are involved with us. But our range is more bigger than that!
We have events with a attraction force of thousands of students from and out of our faculty. Beside that are we also proud owners of the studentcafé Yucca on the Kramersplein, long the only one operated by students in Ghent. Below you can find a short list with our biggest events
Openings-Party
De openingsfuif van de VEK is een fenomeen dat jaarlijks doorgaat in de Vooruit. Wij toveren de Vooruit om tot een waar feestpaleis en zorgen ieder jaar voor spraakmakende performances en de meest adembenemende special effects. Het is waarlijk een must om als economiestudent hierop aanwezig te zijn. Naar gewoonte waren alle tickets voor de editie van 2016 in nog geen 12 minuten de deur uit!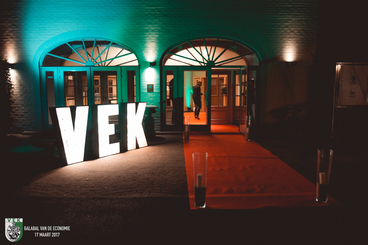 Galabal
The Galabal, with a chic diner before, is an event that can be extra decadent. Last year we provided a stylish lounge with a sympathetic orchestra, we gave away free limousine rides and a helicopter flight and delivered a breathtaking room decoration. Also oysters and champagne weren't missed.
Galabal 2019
't Kuipke Gent
Het decadentste feestje van het jaar
Student Street Soccer
Student Street Soccer is the biggest football tournament in Belgium organised for and by students. Our 10th edition was on Wednesday the 19th and on Thursday the 20the of April 2017. Like always, the event takes place on the Sinter-Pietersplein in Gent. The central location provide a big attandance, whereby we welcomed more than 6000 visitors and 76 soccer teams the last editions.
Because of the big attandance, the promotion on facebook and the central location is there a huge visibility and a big reach to students. The branding posibilities are therefore enormous. You can get more information bij contacting our PR-Externs.
Student Street Soccer X
Sint-Pietersplein, Gent
Epic games,
Epic atmosphere
Studentcafé Yucca
Meeting place for many people
Our café is an unicum. Until recently, the only one that was operated by students, but the concept is unique. We are a café with ambiance: students meet eachother after the lessons, and due to the central location they are not only economic students or students of Gent. We really receive everyone. They talk, play some carts, in good weather they enjoy our terrace and in the evening they make a solid party. A mix of café with ambiance, terrace and nightclub causing us to be open 20h of the 24h!
Our location is ideal: in the centre of the student neigborhood, as qua faculty as qua possibilities to go out. Because our fame, we can reach a lot of people. So we had at our last edition of the '24h of Yucca' a range of 165.000 facebookusers. So we could give the last two years a few thousand students an amazing day.
Below folow some activities.
Weekly parties
The VEK organizes weekly a theme party on Wednesday where alle the students of the faculty are invited. All other days get fixed promo's therefore after al these years we can expect fixed clientele on the different days.
Summerweek
This is the first week of the academic year, where we make it clear what our position is in the landscape of the studentlife to the new students. This results in a gigantic flow of students who pass by and enjoy the first carefree days of the new year. This ideal week to promote certain products!
24h of the Yucca
When the end of the year is almost there, we open the Yucca for 24 hours. Everyone can enjoy of the exuberant atmosphere because every hour there are other drinks in promotion and during the day we give dozens of free barrels.
Communication: infinite possibilities
As you can aspect there are endless ways to put your company in contact with all kinds of students. We are happy to help you, so that we find togheter the best communication channel.
Would you like more information? Please contact out PR-Externs via bedrijfsrelaties@vek.be.
Interested in a partnership?
Register your company via the link at the top of the page for more information about above. The Marketing of the VEK praesidium is responsible for all this stuff. Don't hesitate to contact them via marketing@vek.be.
Pay attention: you are only accepted on the site after personal contact with us for verification.