Say yes to (un)forgettable moments!
Party hard with the VEK!
Na anderhalf jaar zonder openingsfuiven, galabals en andere feestjes zijn we terug!
Het feestteam van de VEK heeft niet stil gezeten en belooft jullie een academiejaar zoals het hoort. Samen met het comité zijn de feestpraesides, Fien en Matthijs, klaar om er opnieuw een top jaar van te maken.
De klassiekers, zoals de openingsfuif en het galabal, worden aangevuld met dit jaar voor de allereerste keer een heropeningsfuif in het tweede semester. Wekelijks verzorgt het feestteam ook een themafeestje met de lekkerste promo's en beste plaatjes.
Wij kijken er alvast enorm naar uit om jullie te mogen verwelkomen op onze talrijke feestjes!
Veel leesplezier en tot snel.
De Feestpraesides
Fien Decroos & Matthijs Dombrecht
Het Feestcomité
Laure Vanfleteren, Balder Demon & Charlotte Mignolet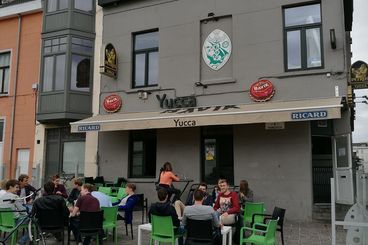 Wednesday Parties
On Wednesday night the whole praesidium is present to welcome all of you at the theme party. There is, for example, the Supply and Demand Party. Fluctuating prices ensure that you have to think like a real economist to obtain the best prices. Also the Bucketparty is a classic. This won't give you the feeling that you're guided by your knowledge as an economist. Instead, you will be surprised by the crazy promos that we have in store for you.
In addition, we organize also some "dress up parties". Just think of the Halloween party and the party full of 'wrong' music. Possibly there will be a province battle. You and your friends of the secondary school can show us which province is best represented by drinking a bavik super pils!
Openings Party
The opening party of the VEK is a phenomenon that takes place every year in 'De Vooruit'. We transform 'De Vooruit' into a true party palace with the most spectacular performances and special effects. It is a must as an economics student to be present at this great festivity of your circle.
The rumour goes that you have to be real quick to seize an entry ticket. And the rumours are true: in our smashing edition of 2016 the tickets were sold out in less than 12 minutes!
We look forward to seeing you again on 8 November 2017, for yet another magnificent party!


Openings Party
Sold-out in 15min
Money is no problem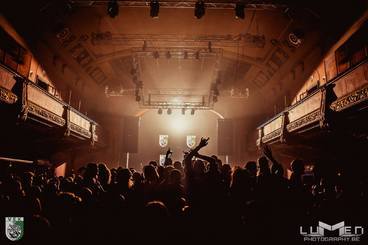 Party Week
The second semester of the academic year we start as usual with our famous party week! But the week before the VEK goes, during the holidays, on a fantastic skiing trip and the fun of that time continues during to this party week to start the semester with a blast of format.
Different teams battle against each other in the most high-profile activities. Read further to learn more about all of this.
Grand Ball of Economics
To talk about a fancy party!
The event where everyone is looking forward to in the second half of the year is THE GRAND BALL OF THE ECONOMICS. This is the largest and most popular ball of all the student associations of Ghent! Many attempted to do better, but the grand ball of the economics is and remains unique.
Last year, a more than successful edition took place. A breathtaking room setting and a stylish lounge bar with a sympathetic orchestra were present. To start the evening in style we had a funny dinner. Besides we raffled off a free helicopter right as well as limousines rides.
You may expect this and much more in the next edition, because we try to outdo ourselves each year. The VEK blows out 95 candles this year which means that we will certainly try to do better! Check out some aftermovies to come in the mood.
We are looking forward to see you on our next year on 8 March 2019!
Galabal
The biggest and most popular Galabal of all student associatons
Many tried, but the Galabal of Economics is and stays unrivaled.