Discover all the information about your syllabi and books here!
STUDENTS FACULTY OF ECONOMICS AND BUSINESS ADMINISTRATION
The Flemish Economic Association, together with Mother Lies, is responsible for the book sales of all study fields at the Faculty of Economics and Business Administration. Since last year, the two associations have joined forces and now organise the book sales together.
More information about the book sales will be announced here soon.
Kind regards
Shahrad and Mariska
Axelle and Lucas
Chief of book sales 2020-2021
Flemish Economic Association & Moeder Lies
Practical
In order to maintain social distancing, we have decided to work with timeslots. You can reserve a timeslot by clicking the link down below.
This year, you do not have to order your books in advance. You can tell us which ones you need when you are at the store.
In the first few weeks of the academic year there are timeslots available from Monday to Friday, every day from 10 am until 7pm. Every timeslot is half an hour and reservation is mandatory. No reservation = no entry.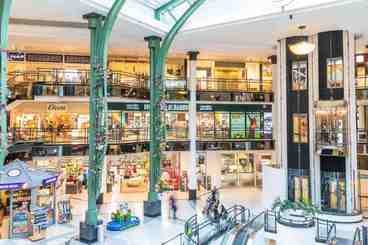 Where?
Due to Covid-19, our booksales will take place in Shopping Ghent Zuid. This is a 1-minute walk from de Vooruit.
Woodrow Wilsonplein 4, 9000 Gent
The Bookstore is on the first floor, next to Standaard Boekhandel.
Date: sep-okt
Location: Woodrow Wilsonplein 4, 9000 Gent
Tags: coronaproof mondmasker handgel
Price: studentvriendelijk
When?
Students starting a 1st bachelor are welcomed on the introduction days of their course.
Any other courses are welcome the first week of the academic year. ( from sep 21st)
The FEB-membership card
The official membership card for students of the Faculty of Economics and Business Administration
During the book sales, you have the possibility to purchase a FEB-membership card. The VEK and ML arranged a lot of partners, where you are able to claim a huge offer by showing this membership card.
More information can be found by clicking 'become a member'. Being a member doesn't only get you offers all over Ghent, it also gives you a discount on the purchase of your books.
Bring your own bags!
Bringing your own bags could be very helpful. A grocery bag is very firm and big enough to carry a couple of those heavy books. They're also ecologically sound!
Unavailable books
See here which books are not available
Macro-Economie
Handboek Lokale en Regionale belasting - Deel 1 lokaal
Macmillan English Grammar
Production and Operations Analysis
Burger en Bestuur
Handboek Vennootschapsbelasting 2020-2021
Handboek Personenbelasting 20-21
Introduction to Operations Research
The following dates are not final
expected in October
expected in October
expected in October
expected in October
Book lists VEK and ML
Here you can find the booklists for all the courses at the faculty.