Travelling is the best education!
Recently, the VEK has also been committed to international students. For both incoming and outgoing students, we do everything we can to make sure you have an unforgettable time. If you have questions about school, exams, fun activities, parties ..., you have definitely come to the right place!
Are you eager to read on? Don't hold back and take your time to explore our webpage!
Welcome international students!
Our international team will receive you with open arms and will do everything in its power to introduce you to our beautiful country. We will give you a warm welcome on our campus and make sure you can start your adventure with peace of mind.
Throughout the year we provide you with all kinds of activities, both school-related and recreational. We organize an exam fair where you can ask all your questions about your subjects and get advice from fellow students so that you can start your exam period well prepared.
We also provide the necessary relaxation throughout the academic year, such as our pub crawl, go karting together and much more! You do not have to be a member of FEB for these events as an international student. Both Erasmus students and degrees from all faculties are welcome to join us, so feel free to bring your friends!
Due to our central location on the European world map, it would be a shame not to even step outside our country borders. Therefore, we are organised a culture-enriching city trip to Amsterdam in November.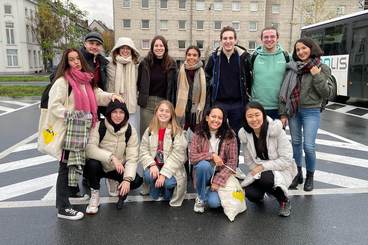 Citytrip Amsterdam
During the first semester, we went on a city trip to Amsterdam. Together we discovered the cultural gems of this beautiful city and had an incredible time. We are already looking forward to next year!
For our Belgian students...
Are you planning to attend erasmus yourself, but don't know where to start? No worries! We will provide you with enough information so that you know what to expect. Your predecessors will share their experiences with you and there will be plenty of information about the selection procedure.
We look forward to guiding you through one of your most memorable periods in your student career.
Do not forget to follow us on Facebook and Instagram to stay informed about our events!
Estée Hostens
Internationalpraesis 2022-2023
Sara Vaneeckhout, Manon Declercq and Malee-Dao De Meulenaere
Internationalcomittee 2022-2023