Competence Night, Talent Enhancement Program, Junior Cracking Case, VEK Investment Club and many more
Get yourself and your cv ready for the job market
Companies are increasingly looking for students with a strong extracurricular background. VEK Recruitment is ready to help you to achieve this! Strengthen your resume by participating at VEK Investment Club, Talent Enhancement Program and Competence Night.
As 2nd bachelor you can participate at the Junior Cracking Case.


Our events provide added value compared to other absent students. Thanks to the support of the Faculty, we are able to give all participants of the Talent Enhancement Program a certificate signed by the Dean.
Competence Night
On this eveningsyou can participate at one of the two tracks. One track prepares you for the perfect application, the other one brings your CV on point. We also provide foods and drinks for the participants, so that they also have the opportunity to network with the recruiters present.
Possible workshops are tips for job interviews, how to write a good cv, solving a case…
The Competence Night will take place on the 12th of November.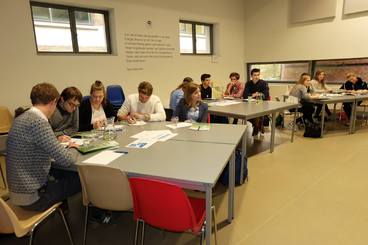 Talent Enhancement Program
Enough of theoretical classes? Time to put your knowledge into practice! This Program provides you free workshops about Finance, Consultancy, Audit, Marketing or Big Data. But be aware of the fact that you can only choose one theme. Each theme exists of three sessions and is given by professionals. Students that follow all of the three sessions will be given an official certificate of the Ghent University! A perfect opportunity to give your cv an extra boost and to achieve your dream job or internship.
The Talent Enhancement Program will take place the 26th of February, the 5th and 12th of March.
VEK Investment Club
The VEK Investment Club is a cooperation between VEK Recruitment and Bolero, the online platform of KBC. It is our intention to acquaint students with the stock market and investing. During the year, we organise several events and workshops.


Read more on our page
Read more on our page