Discover all the information about your syllabi and books here!
STUDENTS FACULTY OF ECONOMICS AND BUSINESS ADMINISTRATION
The Flemish Economic Association, together with Mother Lies, is responsible for the book sales of all study fields at the Faculty of Economics and Business Administration. Since last year, the two associations have joined forces and now organise the book sales together.
More information about the book sales will be announced here soon.
Kind regards
Shahrad and Mariska
Axelle and Lucas
Chief of book sales 2020-2021
Flemish Economic Association & Moeder Lies
Newly delivered books: reserve your timeslot and come & get them!
Updated every weekend
Handboek management accounting
Business Partner B2 Coursebook (Engels HW)
Options, Futures and Other Derivatives (Financieel risicomanagement)
Sociaal recht
Sociale Marketing
Operations management (Productie- en logistiek beleid)
Marktonderzoek: methoden en toepassingen
Principes van databases (Master HW: management & IT)
Entorno Laboral (Spaans)
Applying IFRS standards
Cursus operationeel onderzoek
Privaatrecht Volume 1
Privaatrecht Volume 2
Successieplanning voor beginners
Production and Operations Analysis
Financiële analyse van de onderneming
Strategic Management
Introduction to statistical learning
Social media management
Burger en bestuur
Economisch duits I
Deal: course & reference book
Themawetboek accountancy & fiscaliteit 20-21
Omnichannel in retail
Bouwen aan beleid
Wetboek Lokale belastingen in het Vlaams Gewest
Inleiding tot het recht
Privaatrecht
Persoonlijke financiële planning
Keuzevak HW
Master HW: fiscaliteit
BPM
1e bach HW
Gem. jaar Engels
Master HW: fiscaliteit
Beleidskunde BPM
Master HW fiscaliteit
Out of stock
The titles below have been reordered and are expected very soon!
Filosofie en economie
Java: An Introduction to Problem Solving and Programming
Wiskunde voor bedrijfskundigen 1 (theorieboek)
Handboek Personenbelasting
Handboek boekhouden: dubbel boekhouden
Economisch Frans III HW
VAT for economists
Grondbeginselen van de BTW
Algemeen bestuursrecht
International business strategy
Menswetenschappen Gem. jaar
Practical
In order to maintain social distancing, we have decided to work with timeslots. You can reserve a timeslot by clicking the link down below.
This year, you do not have to order your books in advance. You can tell us which ones you need when you are at the store.
In the first few weeks of the academic year there are timeslots available from Monday to Friday, every day from 10 am until 7pm. Every timeslot is half an hour and reservation is mandatory. No reservation = no entry.
FAQ
The answers on frequently asked questions!
I'm having technical issues while ordering my books, what now?
- Reserve your timeslot and come by the store. Using the website to order is no longer needed.
I would like to buy some used books, but don't know if that's a smart thing to do.
- Check the book lists below and compare the edition of the used book to the one on the list. You can always ask us questions about this in the store as well.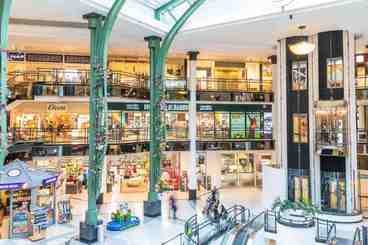 Where?
Due to Covid-19, our booksales will take place in Shopping Ghent Zuid. This is a 1-minute walk from de Vooruit.
Woodrow Wilsonplein 4, 9000 Gent
The Bookstore is on the first floor, next to Standaard Boekhandel.
Date: sep-okt
Location: Woodrow Wilsonplein 4 9000 Gent
Tags: coronaproof mondmasker handgel
Price: studentvriendelijk
When
Booksales are organised until mid November. Timeslots are published online every weekend.
The FEB-membership card
The official membership card for students of the Faculty of Economics and Business Administration
During the book sales, you have the possibility to purchase a FEB-membership card. The VEK and ML arranged a lot of partners, where you are able to claim a huge offer by showing this membership card.
More information can be found by clicking 'become a member'. Being a member doesn't only get you offers all over Ghent, it also gives you a discount on the purchase of your books.
Bring your own bags!
Bringing your own bags could be very helpful. A grocery bag is very firm and big enough to carry a couple of those heavy books. They're also ecologically sound!
Book lists VEK and ML
Here you can find the booklists for all the courses at the faculty.