Say yes to (un)forgettable moments!
Party hard with the VEK!
After one and a half years without opening events, gala evenings and other parties, we are back!
VEK's party team has not been idle and promises you an academic year as it should be. Together with the committee, we, Fien and Matthijs, are ready for a great year.
The classics, such as the opening party and the gala ball, are joined by a re-opening party in the second semester for the very first time. Every week, the party team also organises a theme party with the tastiest promos and best records.
We are looking forward to welcoming you to our many parties!
Have fun reading and see you soon.
The partypraesides
Fien Decroos & Matthijs Dombrecht
The party committee
Laure Vanfleteren, Balder Demon & Charlotte Mignolet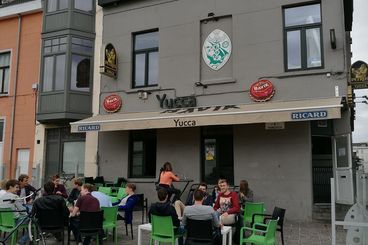 Wednesday Parties
On Wednesday evening the entire Praesidium will be present to welcome you all to the themed party. For example, there is a Halloween party, supply and demand-party and much more. Regular karaoke evenings are also a must. On those evenings, we put the Yucca in a new outfit and you can enjoy crazy promos.
This year, things will be a little different. As the Yucca is being completely rebuilt, these parties will not take place in your favourite café. Therefore, we temporarily have a new favourite café: The Place! The theme parties will be held here for a few months this academic year.
Be sure to come and see us!
Openings Party
The VEK opening party is a phenomenon that is organised every year in the Vooruit. We will transform the Vooruit into a dance floor and provide the necessary special effects. It is an absolute must for economics students to attend this party.
As the opening party approaches, you will hear the rumours in the corridors. Namely that all tickets will be sold out within 15 minutes. So, once the sale is announced, put this date in your agenda.
We look forward to seeing you at our opening party!
Openings Party
Sold-out in 15min
Money is no problem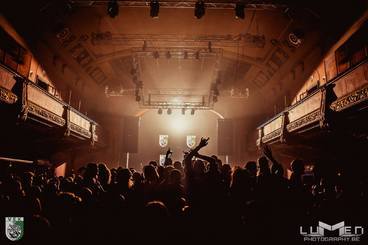 Party Week
The start of the second semester is not something we pass by lightly. This year, for the first time, there will be a re-opening party to start off the second semester with a bang.
Besides that, there is a lot to do in the first week. Besides the re-opening party, there will also be a day disco, crazy promos in the Yucca and much more. So keep this week free in your agenda.
Grand Ball of Economics
To talk about a fancy party!
The event everyone is looking forward to in the second semester is, of course, the GALABAL OF ECONOMY. This is the biggest and most popular Gala of all student associations in Ghent! Many have tried to do better, but the Gala of Economy is and remains unequalled.
Last year's edition was more than successful, with a breathtaking hall dressing and a stylish lounge bar with a sympathetic orchestra. A free helicopter flight was raffled off and limousine rides were drawn. Oysters and champagne were not missing either. All this was preceded by a chic dinner to start the evening in style.
You can expect this and much more from the next edition, because we naturally try to outdo ourselves every year. This year, VEK celebrates 98 years of age, which means that we will certainly not be inferior to the gala ball of our lustrum year, on the contrary! Check out the previous aftermovie to get in the mood.
We are looking forward to welcome you at the next edition!
Galabal
The biggest and most popular Galabal of all student associatons
Many tried, but the Galabal of Economics is and stays unrivaled.