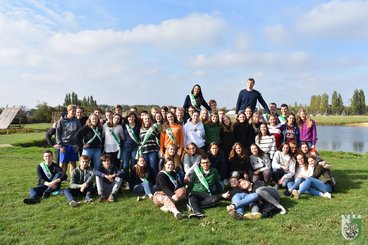 First bachelor weekend
To help you all to find your way in university, we go on a trip with the first bachelor students for 3 days. It is the opportunity to get to know each other better but also to get in touch with the VEK. If that isn't two strikes at one. The weekend of (29/09-1/10) is filled with all kind of awesome and different activities. A perfect way to get your year started the right way.


Skitrip
Don't you have any plans yet for the intersemesterial week yet? Then we have what you're looking for! Also that week, we stand in for your entertainment. We organize our legendary VEK-skitrip. This year, we go to Les Menuires, France. This is a place where both experienced and inexperienced skiers can enjoy the snow to the fullest on the 600km ski slope.


If skiing or snowboarding isn't really your thing, then we have a lot of other activities planned for your amusement. We have all kind of parties planned, VEK-style of course. You probably have heard about our famous troelaparty, our pub crawls, skicantus,… Fun guaranteed!
If you have any questions, contact us on cultuur@vek.be, always at your service!
The VEK Skitrip
onforgettable experiences
La Plagne 2017
Citytrip
Also this year we go on an adventure outside the borders of Belgium. In the second semester (during Dies Natalis) we go for a 5-day trip to one of the must-visit-cities and this for the price of max 200 euros.
Every year there is another destination. We've been to Riga, Lisbon, Sofia,.. This year we go to Edinburgh. So it's really worth the effort to follow our events and subscribe as fast as possible!