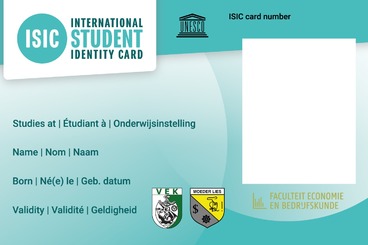 How do you become member?
How can you become a member? Click on registration in the up-right-angle of this page, and you're off!
Thoroughly filling in the additional information might be interesting. This might lead to you becoming our new champion in sports, or even some professional development!
Your membership card can be picked up at our booksales.


Your membership card has value!
Every year we supply our students with a membership card, that has tons of opportunities concerning discounts not only at local shops, even beyond.
This page will be updated regularly. The only thing you'll have to do is scan the QR-code on your membership card.
For example, you can get a discount on your ticket for our opening-party or prom, there will be plenty of opportunities.
If this didn't convince you yet, there will be a lot of deductions on our activities. We like to reward loyalty.
You can find all the deals with your FEB-membership card here!
- SOON TO BE OPEN AGAIN -

The Yucca is not only VEK's own café, run by and for students, but also simply the base for the economic student who pays attention to budgets. Here you can always find beer and soft drinks at €1.5! Throughout the year there are also crazy promos so come and take a look!

The Yucca is open every day from 10am until the early hours and has a nice sun terrace.

With your membership card you can benefit from even more student-like prices: you can order a Pitcher beer (glass jug) for only €6 (instead of €7.5).


Our Deals
Which translates to "The Golden Satay" is a well known and legendary place where you can get the best Belgian Fries (note: We'll be offended if you name our invention after the French). This place's fame and reputation are wide-spread amongst students. Recently, we even have a recipe of our own. Go and try it out! It's named: "VEK'ske"

Your membership card allows you to enjoy their "Crazy Tuesday" – action every day at Pizzahut Delivery Heuvelpoort! If you go and pick your order up, a medium pizza will only cost you €5,95, no matter which one! Delivery at home is also a possibility: 2 medium pizza's free of choice for only €15,95, and only €20 for 3! Careful, you'll have to present your membership card!

Mens sana in corpore sano; a healty spirit in a healty body. Because a fresh mind in a healthy body is an absolute must for the success of your studies, a cooperation with the best fitness center of Ghent could not be missed! Thanks to your FEB membership card you get an all-in yearly subscription for only €250 with no membership fee (€49.00), incl. a free mug, free Yanga Sports water with various flavors (sugarfree) and many other benefits. Moreover, the Fitness Center is located in Overpoort, so no student has an excuse not to go work out!
Thanks to your FEB membership card, you get up to 10% discount on your purchases at Bakkerij Panda (Florbertusstraat 6).
Perfect to enjoy a soup, sandwich and/or butter cake on your way to class (or Overpoort).
Orientali at 19 rue Saint-Amand is the place to go for delicious Asian dishes, prepared according to the rules of the art. You can either dine there or take their dishes with you to be eaten at the Yucca. Upon presentation of the FEB membership card, you get 4 free fried snacks when purchasing a main course with curry.
Do you like a chicken-wing too? Overgate 1 is the place to be, both during the day and night. Showing our membership card gets you a half euro discount per order, and we all know as economists that that can make a huge difference (3 times is a pint at the Yucca, just saying).
Fluotopics is a tutoring agency that focuses on the subjects of math, statistics, physics/physics, chemistry/chemistry. Ideal for students who have difficulties with processing the study material! Especially for you we have a discount of 25 euros in store thanks to the FEB membership card.

Do you like to play a game of pool? Do you like to eat a deep-fried snack? Then The Zone is the place to be for you. Enjoy a 25% discount on pool games and a 10% discount on fry snacks and sandwiches.
Questions?
Do you have any questions?
Then please do not hesitate to send an email to bedrijfsrelaties@vek.be!